Visiting Writer Jhumpa Lahiri
Saturday, April 23, 2022
7 PM
Join us for a reading with visiting writer Jhumpa Lahiri.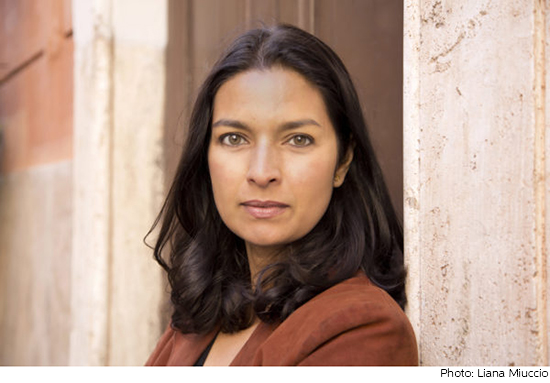 Jhumpa Lahiri received the Pulitzer Prize in 2000 for Interpreter of Maladies, her debut story collection. She is also the author of The Namesake, Unaccustomed Earth, and The Lowland, a finalist for both the Man Booker prize and the National Book Award in fiction. Lahiri is the recipient of numerous awards and fellowships, including the John Florio Prize for Italian Translation, PEN/Hemingway Award, the PEN/Malamud Award for Excellence in the Short Story, the Addison Metcalf Award from the American Academy of Arts and Letters, the Vallombrosa Von Rezzori Prize, the Asian American Literary Award, the Frank O'Connor International Short Story Award, a Guggenheim Fellowship, and a National Endowment for the Arts Fellowship. In 2014, she was awarded a National Humanities Medal.
Lahiri's fifth book was a collection of essays she wrote in Italian while living in Rome, titled In Altre Parole (In Other Words). Lahiri continues to write and publish in Italian (The Clothing of Books, 2016, was originally published in Italian) and translate both her own work and the work of others from Italian to English. Her translation of Domenico Starnone's novel Trick was published by Europa Editions in March 2018. She also translated Starnone's novel Ties, which was named a New York Times Notable Book and Best Foreign Novel by the Times of London in 2017. Her novel written in Italian, Dove mi trovo, was published in Italy in 2018. The Penguin Classics Book of Italian Short Stories, edited and introduced by Lahiri, with selected translations, was published in March 2019.
Please RSVP for this event by clicking here.
The annual Fine Arts Work Center Fellowship welcomes 20 emerging artists and writers to live and work in Provincetown from October 1 – April 30. Fellows receive a modest monthly stipend, intended to offset personal expenses and clear the way for seven months of uninterrupted time and space in which to advance their practice.
We invite you to contribute to our April Fellowship Fund, a month-long initiative to support the extraordinary Fellows who enrich our creative community and go on to shape contemporary culture.