Fellowship Exhibition: Elizabeth Flood
March 18 - March 22, 2022
Reception: Friday, March 18, 5 - 7 PM

Race Point, oil on canvas, 52 x 132 inches, 2022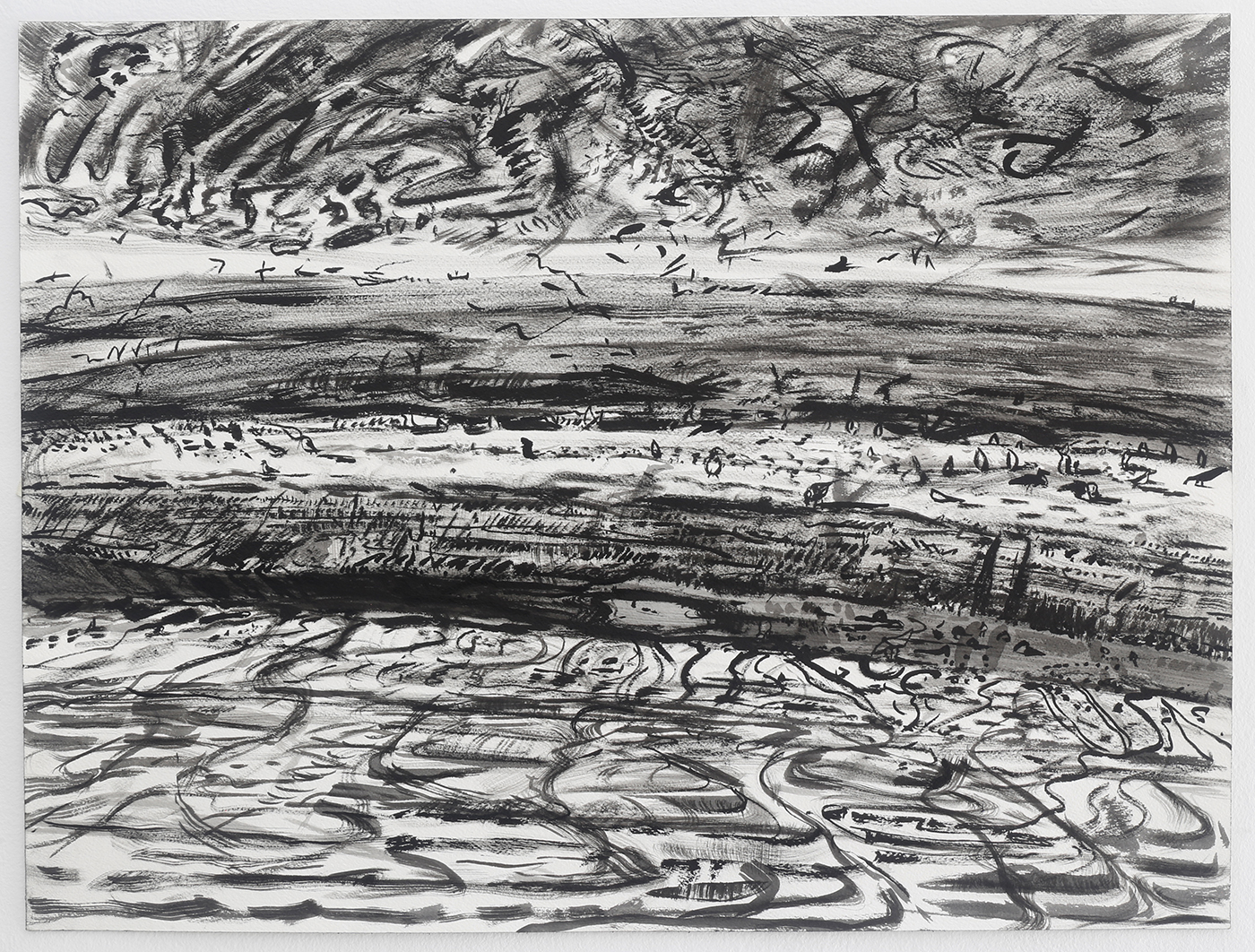 Race Point (tidal channel, October), sumi ink on paper, 18 x 24 inches, 2021.
Join us for a Fellowship exhibition by 2021-2022 Visual Arts Fellow Elizabeth Flood.  
Elizabeth Flood was born on Long Island and grew up in Stafford, VA. Her paintings and drawings survey the complex layers of extraction, violence, and expression within the American landscape. Through her experiential practice of working outdoors in the elements, she forecasts future impact and keeps watch over a country and land in crisis.
Flood studied History, Religion, and Studio Art at the University of Virginia where she earned her BA in 2014. She attended Boston University for graduate school where she earned her MFA in Painting in 2019. She attended the Mount Gretna School of Art in 2014-2015 and taught painting there during the summer of 2020 while she was on faculty at Colgate University (2019-2021). In 2019, Flood was a participant at the Skowhegan School of Painting and Sculpture and was an artist-in-residence at the Studios at MASS MoCA. She is currently a 2021-2022 fellow at the Fine Arts Work Center in Provincetown, MA. Her debut solo exhibition, Battlegrounds, is currently on view at Real Art Ways in Hartford, CT. Flood has recently shown in a two person exhibition in Exeter Gallery IN Baltimore, and has been exhibited in several group exhibitions throughout the northeast. Flood is the recipient of several grants and awards including the Real Art Award, the Elizabeth Greenshields Foundation Grant, the Virginia Museum of Fine Arts Graduate Fellowship, and the John Walker Alumni Award at Boston University.
Please note: To secure your visit, please email registrar@dev.fawc.org.  We look forward to welcoming you to the Work Center.