Ecology and Justice Week Keynote with Alison Hawthorne Deming
Sunday, August 7, 2022
7 PM
Join us for a Keynote with Alison Hawthorne Demin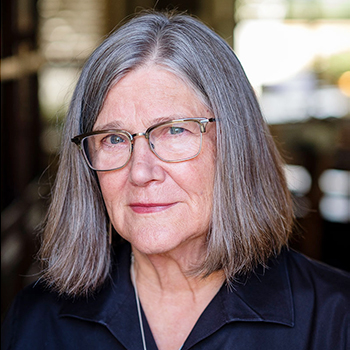 Alison Hawthorne Deming's most recent nonfiction book is A Woven World: On Fashion, Fishermen, and the Sardine Dress from Counterpoint Press. She is the author of five nonfiction books and five poetry collections, including Zoologies: On Animals and the Human Spirit and Stairway to Heaven. Recipient of a Guggenheim Fellowship, Stegner Fellowship at Stanford University, National Endowment for the Arts Fellowships, and Walt Whitman Award, she is Regents Professor Emerita at the University of Arizona.
Keynote is free for students attending a workshop this week. Tickets for the general public will be available at the door.
All readings and artist talks are held in the Stanley Kunitz Common Room, unless otherwise noted. Our annual summer exhibition, Density's Glitch,  is on view through August 28, 2022 in our Hudson D. Walker Gallery. Both venues are located at 24 Pearl Street in Provincetown.
Gallery Hours: Monday – Thursday, 11 AM – 3 PM / Friday and Saturday, Noon – 5 PM
We require all students, faculty, staff, and guests to wear a mask when indoors at the Work Center.


The Stanley Kunitz Common Room and the Hudson D. Walker Gallery are accessible facilities in compliance with ADA guidelines.

 If you require assistance to access these venues, please call the Fine Arts Work Center at 508-487-9960 ext. 101 in advance of your visit.