Exhibition: Density's Glitch
May 28 - August 28, 2022
Reception: Saturday, May 28, 6 - 8 PM
Hudson D. Walker Gallery
Co-curated by Angela Dufresne, Cash (Melissa) Ragona, and Andrew Woolbright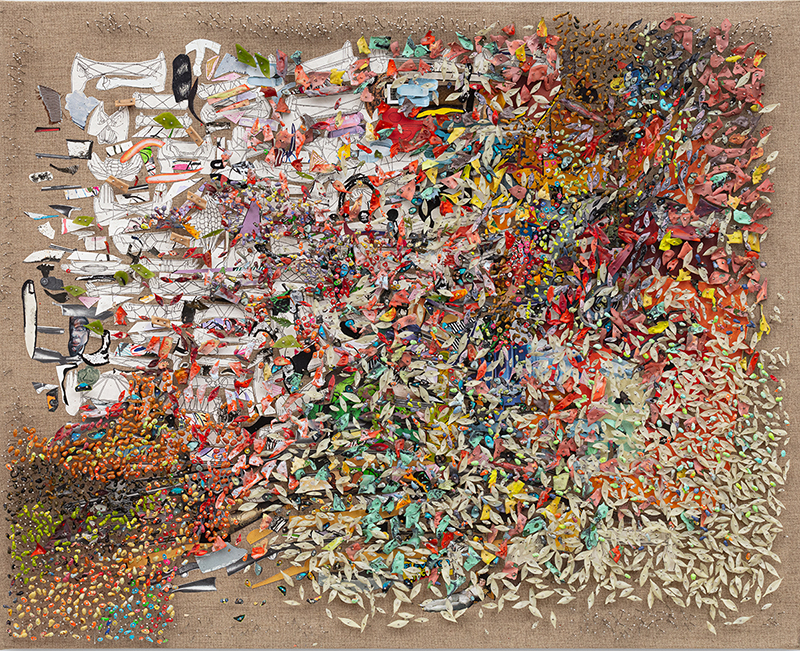 Elliott Hundley, "27.7.21.1," 2021, 24 1/4 x 30 1/4 x 3 inches
Participating Artists:

 

 

 

 

Mala Iqbal
Michael Jones McKean
Troy Montes-Michie
Bridget Mullen
Sarah Oppenheimer
Sarah Peters
Duane Slick
Autumn Wallace

 

 

 
View available artworks at Artsy
The Fine Arts Work Center is pleased to announce Density's Glitch, the first exhibition in a planned annual summer exhibition series in the newly relocated and renovated Hudson D. Walker Gallery at 24 Pearl Street.  Density's Glitch is a group exhibition of past Fine Arts Work Center Visual Arts Fellows, selected by curators Angela Dufresne, Cash (Melissa) Ragona, and Andrew Woolbright.
"Glitch"—a contemporary reference to digital systems caught  in a rapid-fire error loop—is also a space for unmediated, alternative possibilities.  As shared in the exhibition's curatorial statement, the show presents "a range of sensuous and defiant magik," examining iterations of embodiment as a liminal realm. The works on view, including the self-automated sculpture of Sarah Oppenheimer, the ethereal collages of Troy Michie, and the intricate multimedia compositions of Elliott Hundley, critically engage with moments of cultural  impasse and material density to form meaningful points of contact, as well as affective resistance.
The artists in this show are all past Fellows of the Fine Arts Work Center. For over 50 years, FAWC has welcomed emerging artists to Provincetown for a seven month residency through its renowned Fellowship Program.  Ten Visual Arts Fellows, along with ten Writing Fellows, live and work at 24 Pearl Street. Through this unique, extended residency for artists in  the early stages of their careers, FAWC has proven to be a launchpad for some of the most dynamic, essential visual art of our time. 
The Work Center is honored to present, for the first time in its history, a curated exhibition of exceptional past Fellows in Provincetown in the Hudson D. Walker Gallery.  On view from May 28 – August 28, 2022, the works in Density's Glitch will also be available for acquisition via Artsy, and a portion of all proceeds will support the Fine Arts Work Center Fellowship Program.
Gallery Hours
Beginning on June 6, the Hudson D. Walker Gallery is open Monday through Thursday, from 11 AM to 3 PM, and Friday and Saturday from 12 to 5 PM. The gallery is also open during all evening events.
Outside of this window, appointments are encouraged for visits to the Hudson D. Walker Gallery. To make an appointment, email registrar@dev.fawc.org or call 508.487.9960.
The Fine Arts Work Center is grateful to Density's Glitch exhibition supporters James and Stephania McClennen.