2023 Summer Workshops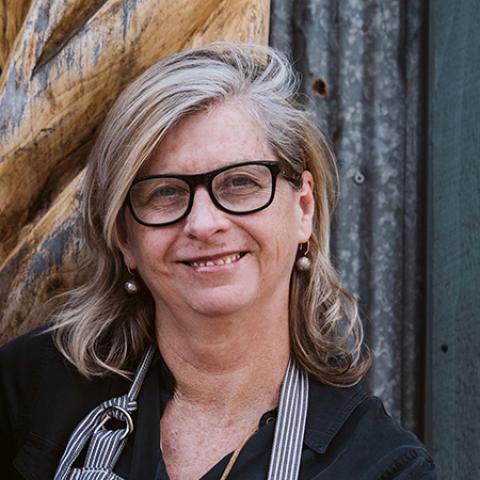 Sarah Amos
Taking Line & Texture for a Walk: Collagraph on Cardboard
July 19 to July 24, 2020
Tuition: $650
Workshop: 9am-12pm
Discipline: Printmaking
OPEN TO ALL
On-site Housing NOT Available - Off-site Housing Options
Sarah Amos has taken this printmaking discipline to a new level due to her persistent experimentation and her refined aesthetic. Amos is enthralled with the collagraph technique that she has perfected over 25 years of experience. The multiple plate process and layering technique that Amos primarily uses is a wonderful way to achieve a rich painterly surface with both oil paint and etching ink. This class explores the rich collagraph techniques on mat board, which are used to create unique paintings on paper. Artists will learn the multiple plate system and its registration capabilities, layering and application of paint, stenciling. Water based drawing techniques will be demonstrated with emphasis on making larger prints using the French seam technique. We will learn how to scrape, incise and perforate the surface to create wonderful textures of pattern and organic line. Sarah will also share her own work to illustrate techniques and give independent and class critiques to all participants. The use of non-toxic materials such as mineral oil are also emphasized and discussed at length due to Amos's heightened sensitivity to such materials during her printmaking career. However oil based inks will be used. Artists can expect to create a body of work during this week workshop and are encouraged to work by themselves after class.
Ten sheets of white BFK Rives (22×30 inches) will be provided as part of the materials fee. Additional sheets may be purchased from the Work Center at $5 per sheet.
Biography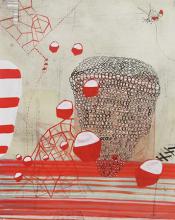 Sarah Amos (born in Australia) lives in Vermont and Australia and maintains an active exhibition schedule of her own work despite her intense commitment to teaching other artists. She is also a rotating Adjunct Professor at Dartmouth, Williams and Bennington College where she has taught Printmaking and Drawing since 2007. Sarah left Australia after receiving a BFA in Printmaking, RMIT to attend the Tamarind Institute of Lithography in New Mexico and became a certified Tamarind Master Printer in 1992. An MFA from the University of Northern Vermont was received in 1988 while working as the Master Printer for the Vermont Studio Center Press from 1988 to 2008.
Selected Solo show and two person exhibitions include CUE Art Foundation NY (2019), BCA,Vermont, (2019), Huntington Museum, WV (2019), ICA San Jose (2018), Flinders Lane Gallery, Australia (2017),Cynthia Reeves Projects Mass MOCA Massachusetts (2015), Fischer Museum USC, Los Angeles, CA, (2012) Penn State University (2011) Monash University, Australia (2011), and La Trobe University, Australia (2009). Sarah has been awarded numerous grants and fellowships including the Joan Mitchell painters and sculptors Grant 2014, Artist in Residence award from Joan Mitchell Foundation New Orleans 2020, The Walter Gropius Master Artist Series, Huntington Museum West Virginia 2019, Santa Fe Arts Institute 2006, Ballinglen Arts Foundation Ireland 2001, and Kaus Australis in Rotterdam, Holland 2002. Sarah Amos's work is part of the following public and private collections: The Hood Museum, Dartmouth College New Hampshire, Latrobe University Museum, Australia, Time Warner permanent collection New York, The Robert Hull Flemming Museum, Vermont , Alliance Capitol New York and the Tweed Museum, Duluth Minnesota.