INTERVIEWS & SPOTLIGHTS: PATRICIA SPEARS JONES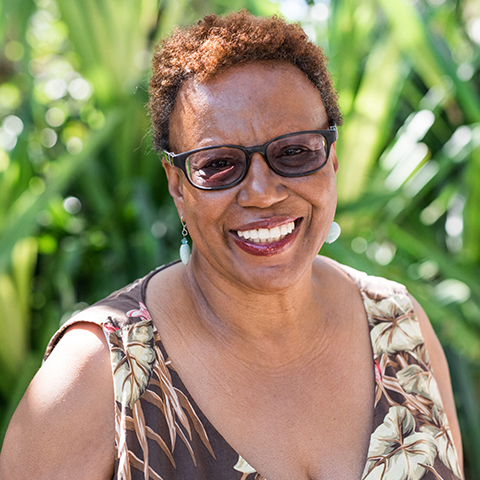 Patricia Spears Jones is a poet, playwright, educator, cultural activist, anthologist, and recipient of 2017 Jackson Poetry Prize and is author of A Lucent Fire New and Selected Poems (2015) and 3 full-length collections and five chapbooks. She co-edited the groundbreaking anthology, Ordinary Women: An Anthology of New York City Women (1978) and organized and edited THINK: Poems for Aretha Franklin's Inauguration Day Hat (2009).  Her poems are widely anthologized most recently in African American Poetry: 250 Years of Struggle and Song and Why To These Rocks: 50 Years of Poems from the Community of Writers. Her poems are published in Plume, The New Yorker and The Brooklyn Rail. Essays, memoir and interviews are published in Furious Flower: Seeding the Future of African American Poetry;  The Whiskey of Our Discontent: Gwendolyn Brooks as Conscience and Change Agent;  and journals including The Black Scholar, Bomb, Tribes, Pangyrus, The Poetry Project Newsletter, Rumpus and The Writers Chronicle. The Museum of Modern Art commissioned the poem "Lave" for the exhibition, Jacob Lawrence: The Migrations Series. Mabou Mines commissioned and produced two plays "Mother" with music composed by Carter Burwell and Song for New York: What Women Do When Men Sit Knitting with music composed by Lisa Gutkin.
She received grants and awards from the National Endowment for the Arts; New York Foundation for the Arts; Foundation of Contemporary Art; a Robert Rauschenberg Residency and residencies at the Virginia Center for the Creative Arts, the Millay Colony, Yaddo, and the Camargo Foundation, Cassis, France via the BAU Institute.  She is Emeritus Fellow for Black Earth Institute and organizer of the American Poets Congress.
Read the FAWC interview and a poem of hers below, and register now for Patricia's 24PearlStreet course 9 Living Women Poets, 4 New Poems, December 6 – 10, 2021.
What do the poets in your curated feminine canon have in common? How do they and their work relate to one another?
A shared belief in the power of language to name conditions, explore complexity and provide a different perspective on the body.  This includes transgender poets.
What is it about closely reading the work of a group of poets that helps other writers get inspired and make explorations in their own work? 
I think we can always expand our libraries–new phrases, new ways to use traditional or conventional forms or the introduction of new forms are more ways to enliven one's writing practice-whatever the genre.
Artists tend to be inspired by a variety of different things – engaging with other artists' work; listening to music; the landscape. This is an online course, meaning everyone is creating work in their own environments. What's your sense of how this will change the work that students produce, compared to when everyone is in person in class together?   
I have no idea. I understand that many people prefer this kind of workshop, especially if they live many time zones away…
This is your first time teaching with 24PearlStreet. What are some hopes you have for the course, and what do you hope your students take away from the experience? 
I hope that each poet creates drafts of poems that please them and that they find some new poets' works to add to their knowledge of the field. I hope they enjoy the prompts.
—
Autumn, New York, 1999
And I am full of worry I wrote to a friend
Worry, she replied about what—love, money, health?
All of them, I wrote back. It's autumn, the air is clear
and you hear death music—the rattle of leaves swirling
the midnight cat howling, a newborn baby's 3 am
call for food or help or heart's love
At the market, the green, red and yellow apples are piled high,
sweet perfume—once, I went apple picking in Massachusetts
a day of thralling beauty, my companions and I
had no desire to leave the valley—the plump trees,
the fierce pride of small town New England where a gift shop
exploded gingham, calico, silly stuffed toys
we stood within this shrine to cloying femininity of entwined hearts
and ribbons and bows like invading aliens, fascinated and appalled
and here too, people throng around the dahlias—
the last of the bright fat flowers. Open. Scentless.
It is going to be a very hard winter and we all know it in our bones
an almost atavistic memory with instruction—wear heavy clothes
horde food, drink water, stand against the wind
listen.
Copyright © 2010 by Patricia Spears Jones. From Painkiller (Tia Cucha Press, 2010).
Register now for Patricia's 24PearlStreet course 9 Living Women Poets, 4 New Poems, December 6 – 10, 2021.
—
24PearlStreet aims to increase your access to workshops—no matter where you are in the world. To view the entire 24PearlStreet workshop catalog, click here!