Interviews & Spotlights: Nick Flynn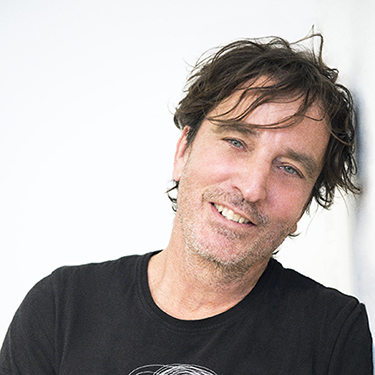 Nick Flynn has worked as a ship's captain, an electrician, and as a case-worker with homeless adults. He is the author of five collections of poetry, most recently I Will Destroy You. He is also the author of a play, Alice Invents a Little Play and Alice Always Wins, and the memoir trilogy The Ticking is the Bomb, Another Bullshit Night in Suck City, and The Reenactments. Other recent, notable books include the multi-media retrospective Stay: A Self-Portrait (March 2020) and the memoir This Is the Night Our House Will Catch Fire (August 2020).
Read the FAWC interview with him below, and register now for Nick's 24PearlStreet course Memoir as Bewilderment, November 1 – November 5, 2021.
Do you find that writing – writing memoirs in particular – lends itself to mining bewilderment more so than other artistic mediums?
I am unsure if "more" is the word…I think it depends on the temperament of the artist. I can imagine that a dancer would be right on the knife edge of bewilderment with each slight gesture, almost watching as the body makes movements and gestures that likely have little to do with the intellect. It seems like with any artistic practice at some point we reach that place where what we know and plan dissolves, and something else takes over. That to me is thrilling, in whatever medium.
When playing with incomprehension, does it tend to appear as you begin your writing, or do you have a tendency to write in a more structured format and return to your work with the intention of exploring incomprehension and bewilderment?
That really depends on the moment, though in our workshop we will begin each writing exercise with a short mediation, as a way to bring ourselves to the threshold of the unknown, and then when we start writing we will hopefully cross that threshold. Inversely, we will also look at work we have already written before the workshop and look for those threshold in that work, where we can push a bit deeper into the unknown.
What is it about bewilderment that you find worthwhile? How does incorporating it into your work get at a deeper truth or a more compelling way of sharing a story, be it through memoir, poetry, or fiction?
David Mamet has said "The conscious mind cannot create art"—and I agree. Our conscious minds often get in the way of allowing the greater mysteries of existence to flow through our work.
How will you know you've accomplished with your 24PearlStreet students what you've set out to? 
Ideally, by day three or day four, the writers will start to let go of whatever has been blocking then, and they will read something they've written and be filled with surprise…" I don't even know who wrote this" is a very satisfying thing to hear a writer say about their own work.
Register now for Nick's 24PearlStreet course Memoir as Bewilderment, November 1 – November 5, 2021.
—
24PearlStreet aims to increase your access to workshops—no matter where you are in the world. To view the entire 24PearlStreet workshop catalog, click here!