INTERVIEWS & SPOTLIGHTS: KRISTINA MARIE DARLING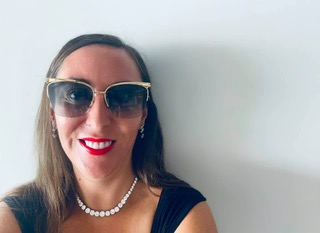 Kristina Marie Darling is the author of thirty-four books, including DIFFICULT:  Essays on Contemporary Feminist Poetry (Black Ocean, forthcoming); Look to Your Left: A Feminist Poetics of Spectacle (Akron Poetry Series, forthcoming); Angel of the North (Salmon Poetry, forthcoming in 2023); Je Suis L'Autre: Essays & Interrogations (C&R Press, 2017), which was named one of the "Best Books of 2017" by The Brooklyn Rail; DARK HORSE: Poems (C&R Press, 2018), which received a starred review in Publishers Weekly; and two critical studies on contemporary poetry, which are forthcoming from Clemson University Press and Spuyten Duyvil Press, respectively. Her work has been recognized with three residencies at Yaddo, where she has held both the Martha Walsh Pulver Residency for a Poet and the Howard Moss Residency in Poetry; a Fundación Valparaíso fellowship; a Hawthornden Castle Fellowship, funded by the Heinz Foundation; an artist-in-residence position at Cité Internationale des Arts in Paris; five residencies at the American Academy in Rome; two grants from the Whiting Foundation; a Faber Residency in the Arts, Sciences, and Humanities; a Morris Fellowship in the Arts; and the Dan Liberthson Prize from the Academy of American Poets, which she received on three separate occasions, among many other awards and honors.  Her poems appear in Guernica, The Harvard Review, Poetry International, New American Writing, Nimrod, Passages North, The Mid-American Review, and on the Academy of American Poets' website, Poets.org.  She has published essays in Agni, Ploughshares, The Brooklyn Rail, The Gettysburg Review, Gulf Coast, The Green Mountains Review, The Iowa Review, The Literary Review, and numerous other magazines. Kristina currently serves as Editor-in-Chief of Tupelo Press and Tupelo Quarterly, an opinion columnist at The Los Angeles Review of Books, a contributing writer at Publishers Weekly, a staff blogger at The Kenyon Review, and a freelance book critic at The New York Times Book Review. In 2019, she was named to the U.S. Fulbright Commission's roster of Senior Specialists.
Read the FAWC interview with her below, and register now for Kristina's 24PearlStreet course The Fine Art of Application Writing: How to Successfully Apply for Residencies, Fellowships, and Grants, November 8 – December 3, 2021.
Do you find compiling an engaging application requires a different skillset from writing compelling work? Is there hope for a writer who can use language beautifully in a poem or short story but struggles with administrative logistics?
The elements of an application — like project proposals, CVs, and artist statements — are literary forms in and of themselves, with particular rules and conventions, just like the sonnet or the short story.  I've seen writers and artists who craft compelling work struggle to navigate the forms used in residency and grant applications.  However, like the sonnet or the short story, these forms can be learned.  I've served on several juries, including the Millay Colony, I-Park, Willapa Bay AiR, and many more.  The experience of seeing applications from the other side — as a decision maker — is integral to my teaching.  Students can expect an array of insider tips over the course of this practically minded workshop.
Is there a "mistake" that you most often see writers make when they draft applications?
The most common mistake tends to happen in the project proposal.  Writers and artists will describe multiple current projects, and will often be unclear about which one they're pitching for the residency.  This often comes across as indecisive to a selection committee.  Single-mindedness of purpose is crucial when crafting the project proposal.  After all, decision-makers in the arts want to know that the applicant is focused enough to make the most of their residency.
How will you know you've accomplished with your students what you've set out to with this course? 
Students will leave the workshop with what I call a "ready to go folder," consisting of a polished project proposal, artist statement, work sample and CV that can be tailored to specific applications.  After all, the application process for residencies and grants is fairly standard across the board, and applicants can often use the same materials to apply to multiple opportunities.
Register now for Kristina's 24PearlStreet course The Fine Art of Application Writing: How to Successfully Apply for Residencies, Fellowships, and Grants, November 8 – December 3, 2021.
—
24PearlStreet aims to increase your access to workshops—no matter where you are in the world. To view the entire 24PearlStreet workshop catalog, click here!